Our community events offer a wide variety of opportunities for businesses and organizations to partner with us to promote your business and support your community. Contact us today to learn about how you could become a partner of one of our many community events. Check out our Community Events Calendar.
The annual Ellensburg Winterhop Brewfest is a one-of-a-kind festival that invites breweries from around the Pacific Northwest to pour their beers in various downtown business and venues. This snow-or-shine event gives beer lovers access to the best PNW brews, local music, and downtown venues in Central Washington. The 2021 Winterhop Brewfest will be virtual. Sip beer from the warmth of your home while engaging in exclusive brewery tours, interviews, and other content. 
THE 2020 ANNUAL AWARDS GALA HAS BEEN CANCELLED DUE TO COVID-19 
Join us for the Chamber's 112th Annual Awards Gala in 2021! We're excited to share our annual report and update our members on the state of the Chamber. This event is semi formal, so get dressed up and enjoy an evening of wine, music and good food in the newly constructed Hotel Windrow. There will be a dinner and cash bar, as well as a Silent Auction, Live Auction and live entertainment! And of course, we will announce the winners of the 2020 Chamber Business Awards!
THE 2020 GERMANFEST HAS BEEN CANCELLED DUE TO COVID-19
Join the Kittitas County Chamber of Commerce for the Ellensburg Germanfest. Enjoy tasting numerous styles of German beer from local and regional breweries, German food, and numerous family activities in 2021. The event will also feature authentic German style entertainment, well known for their appearances at numerous Oktoberfest's throughout the region. The event is paired with the annual Dachshunds on Parade, bring your Dachshund and enjoy both events in Downtown Ellensburg. This event allows free entry. The beer garden will be $30 for participation, a commemorative tasting glass and five scrip tickets.
Celebrate Independence Day in the Upper Kittitas County! ​The Kittitas County Chamber of Commerce is excited to return as the organizer of the Pioneer Days Grand Parade in 2021.
Independence Day Fireworks Show
Please join the Kittitas County Chamber of Commerce for the Annual Independence Day Firework Show in 2021, a free community gathering on the 4th of July at Memorial Park. 
THE 2020 BITE OF THE 'BURG HAS BEEN CANCELLED DUE TO COVID-19
Bite of the 'Burg is a street festival that happens the day before classes commence to welcome new and returning Central Washington University students to Ellensburg. Taking place on 4th Avenue between Pearl and Ruby, vendors line the street to give out great food, great swag, and great fun! It creates an opportunity for businesses to introduce themselves to a new wave of customers, and helps newcomers find what they need in Ellensburg.
Roslyn Mountain Ale Festival
THE 2020 ROSLYN MOUNTAIN ALE FESTIVAL HAS BEEN CANCELLED DUE TO COVID-19
The perfect event for any beer aficionado is coming back to the quaint mountain town of Roslyn, Washington. Roslyn Mountain Ale Festival introduces a variety of breweries from the Central Washington area. Breweries such as DRU BRU, ICICLE Brewing Company, Columbia Valley Brewing and many more will fill up The Roslyn Yard. Attendees also enjoy food from Roslyn's local restaurant Basecamp Books & Bites and the musical stylings from a Central Washington performer.
Christmas in Cle Elum Parade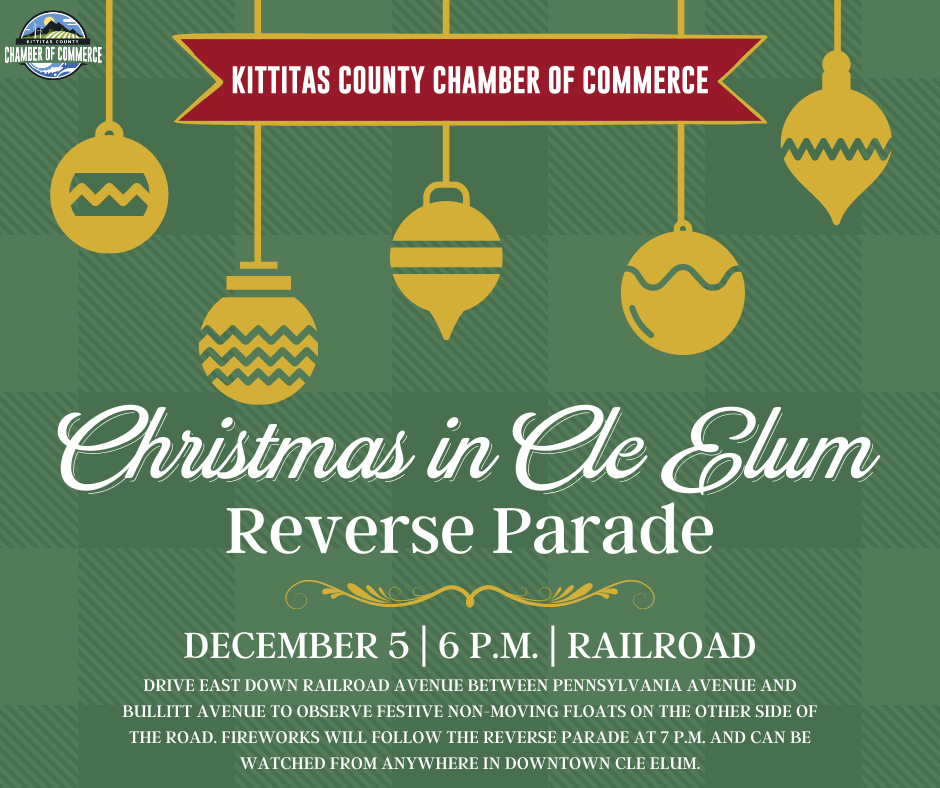 Join the Kittitas County Chamber of Commerce for the Christmas in Cle Elum Reverse Parade on December 5 at 6 p.m. This years "Reverse Parade" will include NON-MOVING floats lining up on Railroad Avenue between Pennsylvania Avenue and Bullitt Avenue, while viewers will drive through moving East on Railroad Avenue to see this year's festive floats.