Ribbon Cutting Ceremonies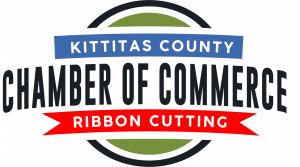 As you may know, the Kittitas County Chamber of Commerce loves celebrating businesses, business growth and the economic advancement of our local communities.
We offer ribbon cutting ceremonies for all of Kittitas County including ground breaking ceremonies, business anniversaries and more. We bring the confetti, scissors, ribbon and fun! Our ribbon cutting ceremonies are in collaboration with local Downtown Associations: Ellensburg Downtown Association, Cle Elum Downtown Association, and Roslyn Downtown Association.
If you or someone you may know is a new business and would like to schedule a ribbon cutting ceremony, please fill out the Google Form below.
Any questions you may have, you can contact the Director of Chamber Outreach and Economic Advancement, Darby Grimes at: darby@kittitascountychamber.com or by calling our office at      509-925-2002.
The coordination of our Ribbon Cuttings involve many partners, one being our local Downtown Associations. The Kittitas County Chamber of Commerce works closely with Ellensburg, Cle Elum, and Roslyn Downtown Associations to celebrate businesses with Ribbon Cuttings in their downtown cores.
Past Ribbon Cutting Ceremonies