Working Washington Small Business Emergency Grant
Governor Inslee Approved 31 Kittitas County Businesses for the Working Washington Small Business Emergency Grant
The Kittitas County Chamber of Commerce is pleased to announce, Governor Inslee has approved $149,554 of the Working Washington Small Business Emergency Grant (WWSBEG) for 31 companies in Kittitas County affected by COVID-19. 
As of this morning, May 18, the recipients have been informed by the Kittitas County Chamber of Commerce CEO Amy McGuffin. The selected businesses include; 7 construction/contractor companies, 5 retail establishments, 4 restaurants, 2 hospitality establishments, 2 healthcare businesses, 2 manufacturing businesses, 1 fitness facility, 1 surveying agency, 1 auto repair business, 1 law agency, 1 salon, 1 janitorial business, 1 forestry service, 1 electric company, and 1 HVACR business. 
If you have any questions, concerns or would like additional information, please contact our CEO Amy McGuffin. If you did not receive the Working Washington Small Business Emergency Grant, please contact Amy for additional local grant opportunities coming as soon as June 1.
Paycheck Protection Program (PPP)
The Paycheck Protection Program is a federal stimulus program designed to provide quick access to Small Business Administration (SBA) loans for companies with 500 or fewer employees to assist with payroll and covered operating costs during short-term business disruption caused by the COVID-19 pandemic. The Paycheck Protection Program Loan is offered at these local lenders: Cashmere Valley Bank, Umpqua Bank, U.S. Bank, Bank of the West, Heritage Bank, Wheatland Bank, Chase Bank, Washington Federal Bank. Additional information about the Paycheck Protection Program can be found here.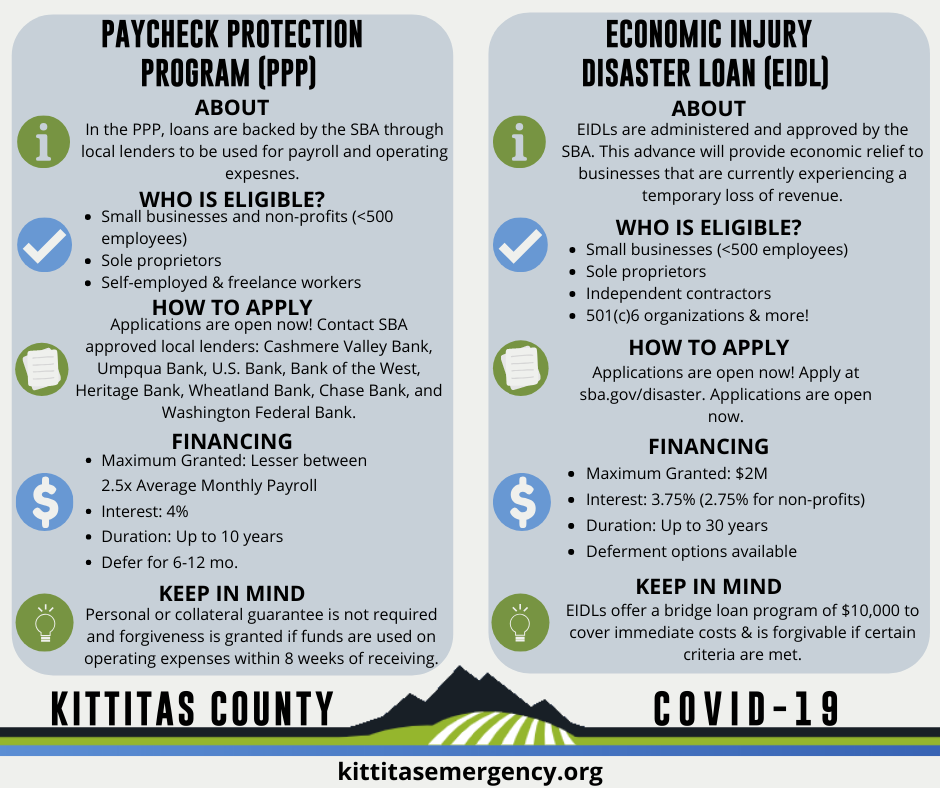 Economic Injury Disaster Loan (EIDL)
In response to the COVID-19 pandemic, small business owners in all U.S. states, Washington D.C., and territories are eligible to apply for an Economic Injury Disaster Loan advance of up to $10,000. This advance will provide economic relief to businesses that are currently experiencing a temporary loss of revenue. Funds will be made available following a successful application.
Express Bridge Loan Pilot Program allows small businesses who currently have a business relationship with an SBA Express Lender to access up to $25,000 quickly. These loans can provide vital economic support to small businesses to help overcome the temporary loss of revenue they are experiencing and can be a term loans or used to bridge the gap while applying for a direct SBA Economic Injury Disaster loan. If a small business has an urgent need for cash while waiting for decision and disbursement on an Economic Injury Disaster Loan, they may qualify for an SBA Express Disaster Bridge Loan.
As part of our coronavirus debt relief efforts, the SBA will pay 6 months of principal, interest, and any associated fees that borrowers owe for all current 7(a), 504, and Micro-loans in regular servicing status as well as new 7(a), 504, and Micro-loans disbursed prior to September 27, 2020. This relief is not available for Paycheck Protection Program loans or Economic Injury Disaster loans.
Washington State Dept. of Children, Youth and Families COVID-19 Grant
The Washington State Department of Children, Youth, and Families (DCYF) is grateful for the continued commitment and dedication that child care providers have demonstrated to the children and families in our state during the COVID-19 pandemic.
DCYF is offering support to child care providers under the Child Care Development Block Grant's CARE Act. This critical support is in the form of a grant to any licensed child care provider in Washington State that is open on the date of the grant release and providing child care.
Providers will log into the WA Compass Provider Portal and select the Child Care COVID-19 Grant tab. The provider will answer a short series of questions and agree to continue to provide child care. All questions must be answered for the application to be submitted. Once a provider submits a completed application, it will move to the "accepted" status.
ArtsWA CARES Act Relief Grants
ArtsWA is pleased to provide rapid-response funding to non-profit and fiscally sponsored arts groups and organizations that are facing financial hardship due to economic impacts related to the COVID-19 pandemic. This funding, in the form of grants, is provided by the CARES Act via the National Endowment for the Arts.