WSDA Relief and Recovery Grants
WSDA will provide nearly $15 million in small business assistance grants to help agriculture businesses and organizations in sectors that have been economically hurt due to marketplace disruptions created by the necessary public health measures during the COVID-19 pandemic.
WSDA is allocating funds from the Disaster Response Account managed by the State of Washington Office of Financial Management, pursuant to Chapter 7, Laws of 2020 by providing WSDA Relief and Recovery Grants.
The WSDA Relief and Recovery Grants will provide support to small businesses and organizations in four sectors that play an important role in the economic viability of Washington agriculture and have been economically impacted due to the COVID-19 public health emergency. This grant serves the public purpose of bolstering the viability of the Washington State agricultural industry, helping prevent business closures, and hence supporting the health and diversity of Washington State's economy.
GRANT AMOUNT
WSDA will award grants at the close of the application period to qualifying applicants in a set amount of approximately $15,000. Specific award amounts and guidelines vary by sector grant program. WSDA reserves the right to adjust grant amounts based on available funds.
TIMELINE
The application period will be open April 9 - April 26, 2021.
Grant awards and payments will be made by the end of May.
Important:  These dates are subject to change.
Shuttered Venue Operators Grant
The Shuttered Venue Operators Grant (SVOG) program was established by the Economic Aid to Hard-Hit Small Businesses, Nonprofits, and Venues Act, and amended by the American Rescue Plan Act. The program includes over $16 billion in grants to shuttered venues, to be administered by SBA's Office of Disaster Assistance.
Eligible applicants may qualify for grants equal to 45% of their gross earned revenue, with the maximum amount available for a single grant award of $10 million. $2 billion is reserved for eligible applications with up to 50 full-time employees.
Eligible entities include:
Live venue operators or promoters
Theatrical producers
Live performing arts organization operators
Relevant museum operators, zoos and aquariums who meet specific criteria
Motion picture theater operators
Talent representatives
Each business entity owned by an eligible entity that also meets the eligibility requirements
Other requirements of note:
Must have been in operation as of February 29, 2020
Venue or promoter who received a PPP loan on or after December 27, 2020, will have the SVOG reduced by the PPP loan amount
Central Washington United Way Grant
United Way of Central Washington is currently accepting funding requests to support:
Critical services for food, housing, health care, homeless services (to include additional needs due to cold weather season)
Services supporting behavioral or mental health
Staffing needs to support critical service delivery
Technology resources for critical service delivery These requests are reviewed by a funding partnership of the United Way of Central Washington, Latino Community Fund, and the Yakima Valley Community Foundation.
Requests are considered on an ongoing basis as funding becomes available. For more information, please contact: info@uwcw.org or (509) 248-1557, grants@yakimavalleycf.org or (509) 457-7616, and/or info@latinocommunityfund.org or (509) 901-2798
Micro-Grants Available for Promotion of Small and/or New Events
The Kittitas County Lodging Tax Committee is pleased to announce the availability of micro-grants for 2020. Grants are available for nonprofit organizations with plans to coordinate and produce an event within Kittitas County. Organizations applying should support projects with the goal of increasing non-resident visitor expenditures coming from 50 miles or further outside the county.
Potential uses for these funds include advertising through print, electronic and web advertising, publications, and/or marketing collateral. Funding may also be considered for event operations upon approval of the Kittitas County Lodging Tax Committee. The Micro-Grants are funded through Kittitas County lodging tax funds and are administered through the Kittitas County Chamber of Commerce.
Paycheck Protection Program (PPP)
The Paycheck Protection Program is a federal stimulus program designed to provide quick access to Small Business Administration (SBA) loans for companies with 500 or fewer employees to assist with payroll and covered operating costs during short-term business disruption caused by the COVID-19 pandemic.
Economic Injury Disaster Loan (EIDL)
In response to the COVID-19 pandemic, small business owners in all U.S. states, Washington D.C., and territories are eligible to apply for an Economic Injury Disaster Loan advance of up to $10,000. This advance will provide economic relief to businesses that are currently experiencing a temporary loss of revenue. Funds will be made available following a successful application.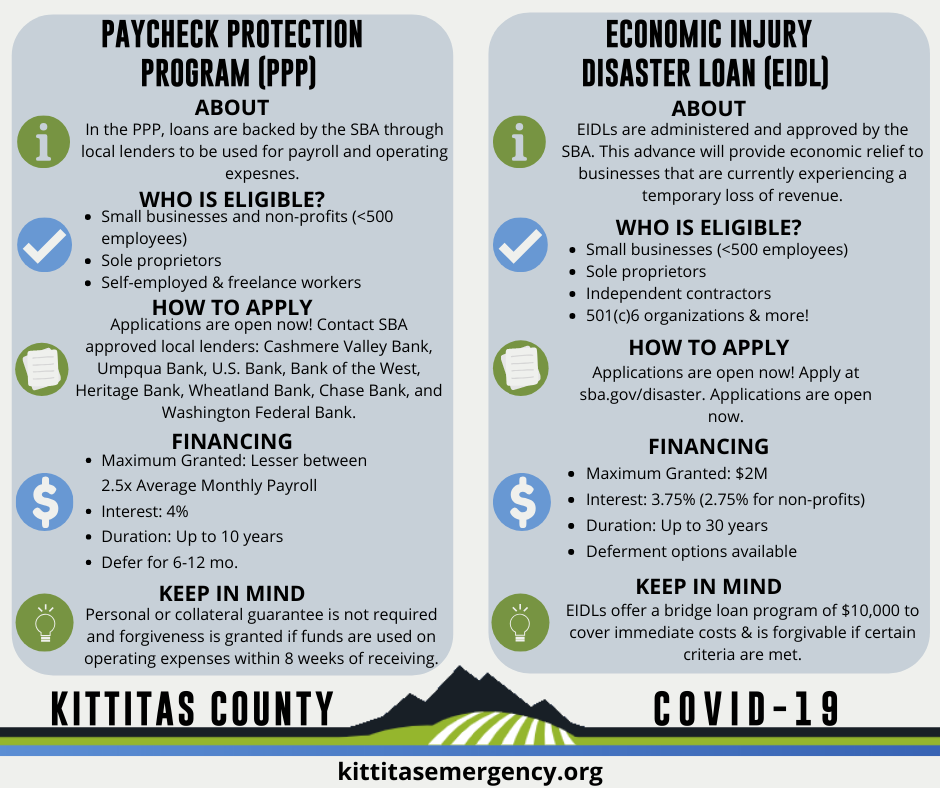 Washington State Paid Family Medical Leave Grant
Small business assistance grants are here!
These grants provide up to $3,000 to help cover costs associated with employees who take Paid Leave. Learn more about eligibility, requirements and the application process in the help center.
Express Bridge Loan Pilot Program allows small businesses who currently have a business relationship with an SBA Express Lender to access up to $25,000 quickly. These loans can provide vital economic support to small businesses to help overcome the temporary loss of revenue they are experiencing and can be a term loans or used to bridge the gap while applying for a direct SBA Economic Injury Disaster loan. If a small business has an urgent need for cash while waiting for decision and disbursement on an Economic Injury Disaster Loan, they may qualify for an SBA Express Disaster Bridge Loan.
As part of our coronavirus debt relief efforts, the SBA will pay 6 months of principal, interest, and any associated fees that borrowers owe for all current 7(a), 504, and Micro-loans in regular servicing status as well as new 7(a), 504, and Micro-loans disbursed prior to September 27, 2020. This relief is not available for Paycheck Protection Program loans or Economic Injury Disaster loans.
Central Washington Disability Resources CARES Act Funding
Beginning October 1, 2020, Central Washington Disability Resources (CWDR) is able to provide a one-time financial aid to individuals with disabilities in relation to the COVID-19 pandemic. Funding can be utilized for rental assistance, food assistance, medical payment/COVID-19 testing fees, utility bills, phone bills, necessary transportation, or to secure PPE and cleaning supplies.
Contact CWDR a (509) 962-9620 or email ashley@mycwdr.org or joshua@mycwdr.org.