Become a Kittitas County Chamber of Commerce Member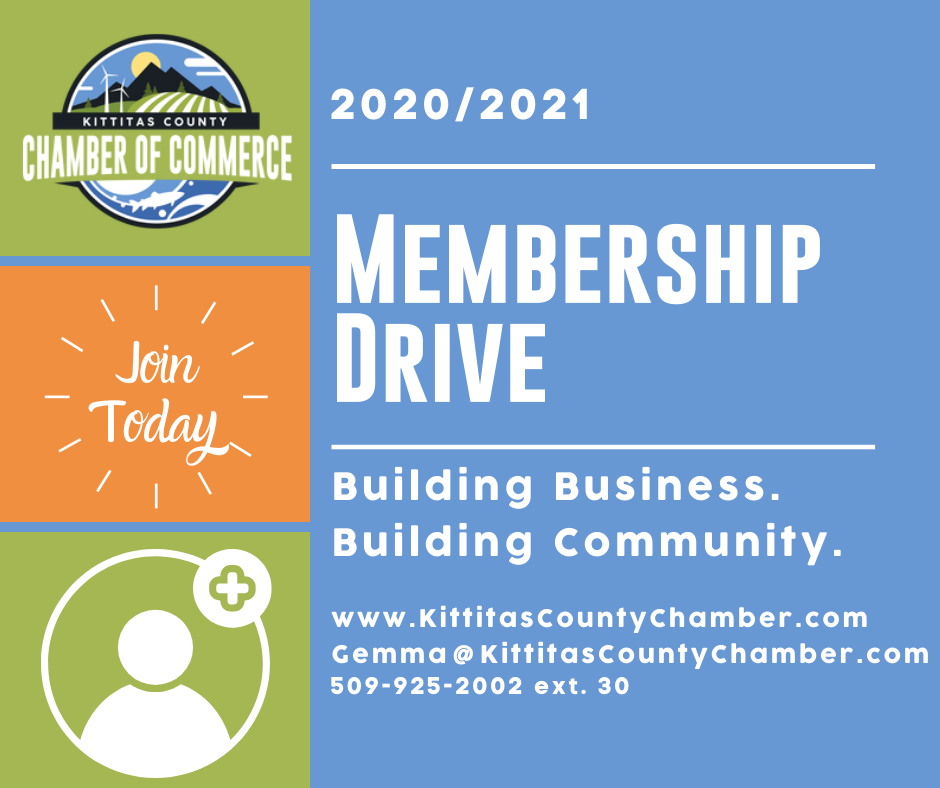 The Kittitas County Chamber of Commerce is currently in our Membership Drive! Our direction during 2020/2021 will be to concentrate on the exposure of our Community, Businesses, and People! This will be done by making Kittitas County stand out as somewhere to live, somewhere to work, somewhere to play, somewhere to eat, somewhere to volunteer, somewhere to stay, somewhere to hold your events… ultimately, somewhere to experience the beautiful County we call home.
Through the month of September the Chamber will be releasing our new campaign "20 Days, 20 Reasons". That's right, 20 reasons to join the Chamber of Commerce!
Join the Chamber during the month of September will be entered to win one of our grand prizes, such as a Carpet Cleaning from Clean Image Services, a 2 hour office Feng Shui Consultation with Rumble Interiors, a Car Detail from Kelleher Motor Company and many more!
The Kittitas County Chamber of Commerce is with you, "Building Business. Building Community."! Join today!
Take a Look at Our Benefits
Networking event hosting
Directory listing
Visitor Center referrals
Event promotion
Business planning guidance
Professional grant writing assistance
Access to workshops, conferences, and seminars
Press releases and job openings on Chamber website
Access to Member mailing lists
Programs
Lifestyle Health Plans - discounted group benefits for businesses
Shop Local - Chamber Bucks reimbursement
Leadership Kittitas County enrollment discount
Partners
Lifestyle Health Plans
Constant Contact
Central Washington Home Builders Association
Ellensburg Business Development Authority
Yakima County Development Association
Small Business Development Centers
Washington Policy Center
Washington Retail Association
Central Washington University