Leadership Kittitas County
Inspiring individuals to seek leadership roles and gives them the resources to succeed as leaders.
*COVID-19 Disclaimer: The Kittitas County Chamber of Commerce will work with local public health officials to ensure that in person classes can take place. We look forward to meeting you all from the comfort of your own homes/offices as we learn about the ins and outs of Kittitas County together. We plan to work with Public Health to hold these classes in person, as soon as it is safe to do so.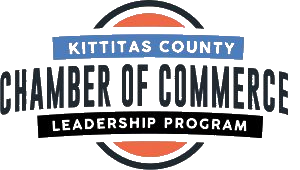 What is Leadership Kittitas County? Leadership Kittitas County is an in-depth, 7-month exploration of our county.  We learn about people and inner offices frequently not open to the public, have behind-the-doors virtual meetings with community leaders and top business people, and spirited conversations about policy and our communities' futures.  Diversity of viewpoints is highly encouraged.  Many deep friendships have been forged among participants and with Leadership alumni and presenters.

Who has attended Leadership Kittitas County?  Between 1995 and 2021, over 400 people have completed the program.  Alumni have gone to become local elected officials, state representatives, judges, top CWU administrators, and people in nearly every walk of local life.  They straddle a wide range of political affiliations but are united in a common desire to make our communities better.
How are participants selected?  Applicants are nominated by Leadership alumni and facilitators.  Selection is based on applicants' interests and the need for the class to be representative of the community. All applicants are not necessarily chosen for the program the first year.
What is the tuition?  Tuition is $500 per participant and is typically covered by employers.
What does tuition cover?  Tuition is used for costs such as materials, space rentals, meals, and occasional transportation services.  The Chamber donates staff support.
What is the time commitment? Participants are expected to attend all virtual sessions and participate by engaging with speakers and fellow class members.  Classes will run from approximately 8 a.m. to 5 p.m., with a lunch break in between. All sessions, with the exception of the October Orientation, are held on the 2nd Friday of the month.  Attendance at the Thursday, October 7 Orientation is mandatory. 
What is the program's 2021-2022 schedule?
Reception/Orientation | October 7, 2021 | 5:00 p.m. – 7:30 p.m.
History | October 8, 2021 | 10:30 a.m. - 3:30 p.m.
Education | November 12, 2021 | 10:30 a.m. - 3:30 p.m.
Government/Law & Justice | December 10, 2021 | 10:30 a.m. - 3:30 p.m.
Business & Economy | January 17, 2022 | 10:30 a.m. - 3:30 p.m.
Arts & Recreation | February 11, 2022 | 10:30 a.m. - 3:30 p.m
Natural Resources | March 11, 2022 | 10:30 a.m. - 3:30 p.m.
Health and Social Services | April 8, 2022 | 10:30 a.m. - 3:30 p.m.
Where do classes take place? Leadership Kittitas County is usually education on-the-run.  Classes take place on the 2nd Friday of every month from October to April. We plan to work with Public Health as we move through the year and when/if it is safe to do so, we will move back to in person classes.
If I become a participant am I expected to run for public office?  We provide the background, knowledge and experiences; how individuals use that is up to them.  Also, leadership is broader than public office.  Roles in professional associations, on boards and commissions, and with service organizations also have great impact.
What is the Chamber's role?  As founder and administrator of the program, the Chamber understands that our business environment and quality of life are directly tied to the excellence of local leadership. The Chamber is committed to assembling the best resources available to provide a year of thought-provoking programs and to motivate participants to become involved in our county's future.
Where can I sign up?  If you would like to be notified when 2021-2022 applications come out, please email the Director of Chamber Outreach & Economic Advancement Darby Grimes or call (509) 925-2002.