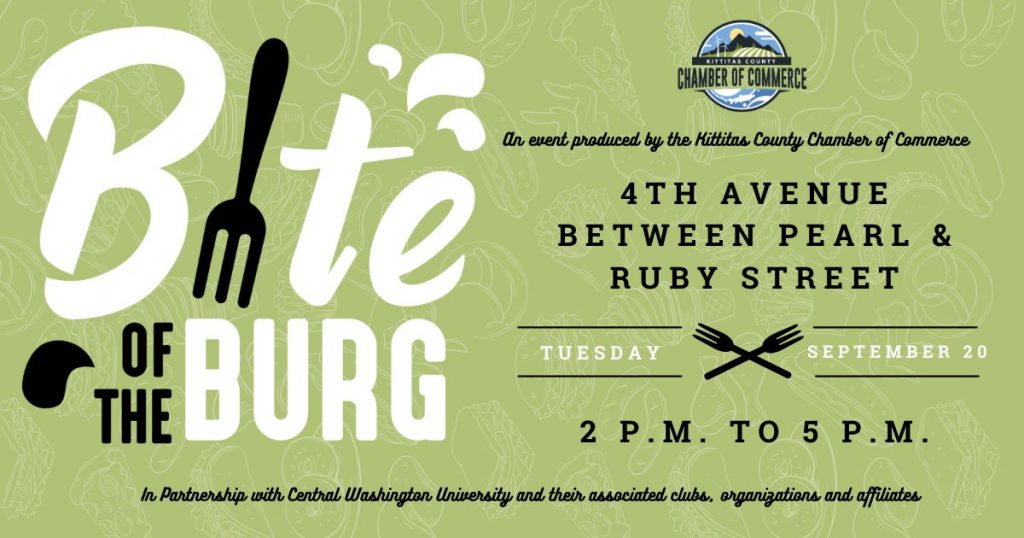 The Kittitas County Chamber of Commerce is putting on the annual Bite of the 'Burg on
September 20, 2022, from 2 p.m to 5 p.m
. Bite of the 'Burg is a street festival that happens the day before Central Washington University classes commence to welcome new and returning students to Ellensburg. Taking place on 4th Avenue between Pearl and Ruby Street, vendors line the street to give out great food, great swag and great fun! It creates an opportunity for businesses to introduce themselves to a new wave of customers and shows newcomers what Ellensburg has to offer. If you have any questions, please email the Director of Chamber Outreach & Economic Advancement
Darby Grimes
or call (509) 925-2002.
If you would like to participate in the 2022 Bite of the 'Burg in Ellensburg, Washington please click on the button below to apply and then click on the register now button. If you are a food vendor, CWU organization/affiliate or a Street-Side business along 4th Avenue between Pearl and Ruby Street please email Director of Chamber Outreach & Economic Advancement Darby Grimes at darby@kittitascountychamber.com to receive a promo code prior to submitting your application. Application Deadline: Friday, September 9, 2022 at 5 p.m.
Thank you to our 2022 sponsors for this years' Bite of the 'Burg. We appreciate your support!
Interested in sponsoring this event? Check out our sponsorship opportunities below and apply online. If you have any questions you can contact the Director of Chamber Outreach and Economic Advancement, Darby Grimes at: darby@kittitascountychamber.com or call our office at (509) 925 - 2002 for more information.
Photos from 2019 and 2021 Bite of the 'Burg