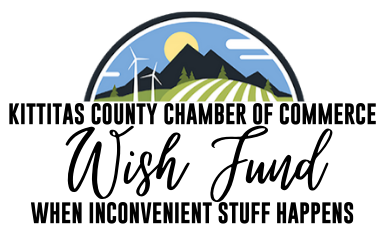 WISH Fund: When Inconvenient Stuff Happens Grant
The WISH Fund (When Inconvenient Stuff Happens) is a fund dedicated to help small businesses during a time of unexpected difficulty. With your donation, a support grant will be awarded to qualified applicants in Kittitas County through the WISH Fund. The awarded businesses or organizations can use this grant to better position themselves for long-term success
Approved applications will enable a business or organization to receive support from the Kittitas County Chamber of Commerce who can assist with strengthening different aspects of their operations through a Business-to-Business support grant paid towards a service provider determined by the applicant or a direct grant paid towards the applicant. 
Program funding is made possible by the Kittitas County Chamber of Commerce, individuals, and businesses in our community who have made generous donations to the WISH Fund. The WISH Fund is a 501(C)3 providing Small Business Enterprise Funding, Supporting the Chamber's Business Development Center Funding, Scholarship Funding for Professional Development Training Fees, and Crisis and Disaster Assistance. Your donations ensure these programs keep our community strong.
For more information, email the Kittitas County Chamber of Commerce CEO Amy McGuffin or call (509) 925-2002.