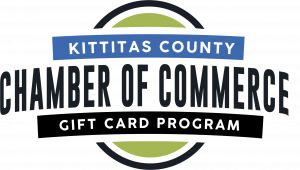 Chamber Bucks are a great way to give your friends and family the gift of shopping local! They can be redeemed at many of our Chamber Member Businesses.  As a participant, Chamber Member businesses are reimbursed 100% for every Chamber Bucks spent at your store.
Purchase Chamber Bucks from our Visitor Information Center:
609 North Main Street
Ellensburg, WA 98926
(509) 925-2002
If you are a member and have any questions about the Chamber Gift Certificate Program, please contact us at vicdesk@kittitascountychamber.com or call (509) 925-2002.
Local member businesses list their "hot deals" or specials they are currently offering on our website. Click on the link below to view their deals and redeem the discount at their business. If you have any questions you can contact our office (509) 925-2002.