Krusin' Kittitas Car Show and Burnouts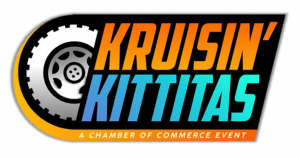 Kittitas County is revving up this summer for the 18th annual Kruisin' Kittitas Burnouts & Car Show on Main Street in Kittitas, WA. On Saturday, August 20, 2022, visit downtown for a parade filled with classic cars— watch awesome burnouts – admire the creativity of the Kids Cardboard Car Show – and so much more! This event is hosted by the Kittitas County Chamber of Commerce.
Photos from Krusin' Kittitas Car Show & Burnouts in 2019
Krusin' Kittitas has two separate registration applications and waivers to complete if you wish to participate in these events. If you are registering for both the car show and burnouts, please fill out two forms. You will be invoiced per registration from the Kittitas County Chamber of Commerce, $15.00 per registration.
Do your kiddos want to participate at Krusin' Kittitas? Well now they can! Signup today for our kids cardboard car show which will be happen in between the car show and burnouts along Main Street in downtown Kittitas.
Sponsorship Opportunities
We have many ways you can get involved in our 18th annual Krusin' Kittitas event. If you are interested in sponsorship opportunities, click on the link below for more information regarding sponsorship levels.
We would not be able to put on this event without our amazing volunteers! If you are interested in volunteering for Krusin' Kittitas, please complete this online form below and we will get back to you with more information.
If you are interested in being a vendor for our swap meet/market please complete our online form. The market will be going on from 10:00 a.m - 4:00 p.m that day.
Food Trucks/Food Vendors Application
Are you a food truck or local food vendor that would like to participate in Krusin' Kittitas? This form is for you!
Photos from Krusin' Kittitas Car Show & Burnouts in 2019