The Kittitas County Chamber of Commerce 114th Annual Awards Gala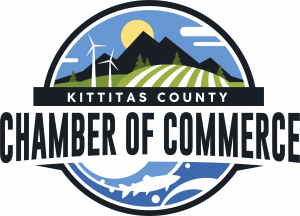 ELLENSBURG, WA – January 28, 2022 - In its 114th year, the Kittitas County Chamber of Commerce Annual Awards Gala will be held on March 10, 2022 at 6:00 p.m, in The Lodge at Suncadia Resort. The ticket price of the event will be $65 which includes dinner from Suncadia, award ceremony, speeches and more.
After over 900 votes, attendees will also celebrate the Annual Business Award winners. This year's nominees were:
-Basecamp Outfitters, The Botany Shop, Pretty Fair Beer and Gemini Fish Market for Best New Business
-The Early Bird, Stella's, Cornerstone Pie and Basalt for Restaurant of the Year
-Ellensburg Floral, Swiftwater Cellars, The Copy Shop and Whipsaw Brewing for Best Customer Service
-Pioneer Coffee Company, Evolve Clothing, The Pearl Bar and Grill and Ellensburg Pet Center for Best Small Business
-Care Net, Kittitas County Friends of Animals, Hopesource of Kittitas County and Kittitas County Habitat for Humanity for Non-Profit of the Year
-Twin Pines Drive-In, Ellensburg Rodeo, Cottage Cafe and Fireside Lounge and Woods Ace Hardware for Legacy Business of the Year
-Hopesource of Kittitas County, Basalt, Heritage Distilling Company and Worksource Kittitas County for Community Impact Award
-Heritage Distilling Company, Armstrong's Stove and Space, Kittitas Valley Healthcare and Hotel Windrow for Business of the Year
Tickets for the Annual Awards Gala can be purchased on February 10, 2022 at the Ellensburg Visitor Center, located at 609 N Main Street in Ellensburg. For more information, please contact the Kittitas County Chamber of Commerce, Director of Chamber Outreach and Economic Advancement, Darby Grimes at: darby@kittitascountychamber.com or call our office at (509) 925-2002.
About the Kittitas County Chamber of Commerce: The Kittitas County Chamber of Commerce is the largest business support and development organization in Kittitas County, and one of the largest in Central Washington. With over 500 members representing every business sector, the Chamber and its committees oversee county-wide tourism promotion and economic development initiatives and a range of business support tools including publications, web services, seminars and even leadership development for a new generation.
###