The Kittitas County Chamber of Commerce Launches The Pitch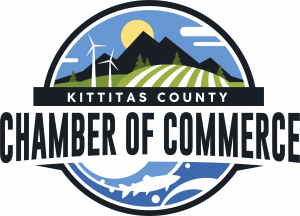 The Kittitas County Chamber of Commerce Launches The Pitch
ELLENSBURG, WA – April 26, 2023 – The Kittitas County Chamber of Commerce is excited to launch The Pitch, a business pitch competition. Applications for the competition are open now through Friday, May 12, 2023 at 5:00 p.m. or until spots are filled.
Wheel Line Cider, a past contestant of the Enterprise Challenge, approached the Kittitas County Chamber of Commerce to produce this new competition for businesses in Kittitas County. "This is a great way to continue encouraging innovative entrepreneurs and opportunities throughout Kittitas County," said Amy McGuffin, CEO of the Kittitas County Chamber of Commerce. In its inaugural year, applicants must be a Kittitas County business that participated in the Enterprise Challenge Competition from the years 2021-2023 to be eligible for the 2023 competition.
The Pitch Day takes place on Thursday, May 25, 2023 from 9:00 a.m. - 5:00 p.m. at the Foundry, located at 421B N Main St, Ellensburg, WA 98926. Set times will be given to contestants once registration closes. On this day, business owners will have the opportunity to pitch their business to a panel of judges to potentially win $10,000. That same day, the winner will be announced during the Awards Ceremony at 4:00 p.m.
For more information about The Pitch please go to kittitascountychamber.com/thepitch/.
About the Kittitas County Chamber of Commerce: The Kittitas County Chamber of Commerce is the largest business support and development organization in Kittitas County, and one of the largest in Central Washington. With over 500 members representing every business sector, the Chamber and its committees oversee county-wide tourism promotion and economic development initiatives and a range of business support tools including publications, web services, seminars and even leadership development for a new generation.
###