Chamber News | September 20 – 26, 2020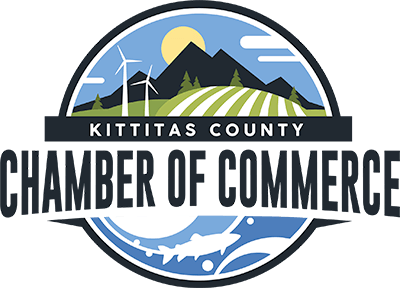 Washington Youth Development Nonprofit Relief Fund
The Washington State Department of Commerce is partnering with School's Out Washington to implement the Washington Youth Development Nonprofit Relief Fund. This one-time investment will provide $9.3 million to youth development programs/organizations that have been most impacted by the COVID-19 pandemic and which serve young people who are furthest from educational justice. Go to the website youthdevrelief.schoolsoutwashington.org to see the applicant criteria and to apply now!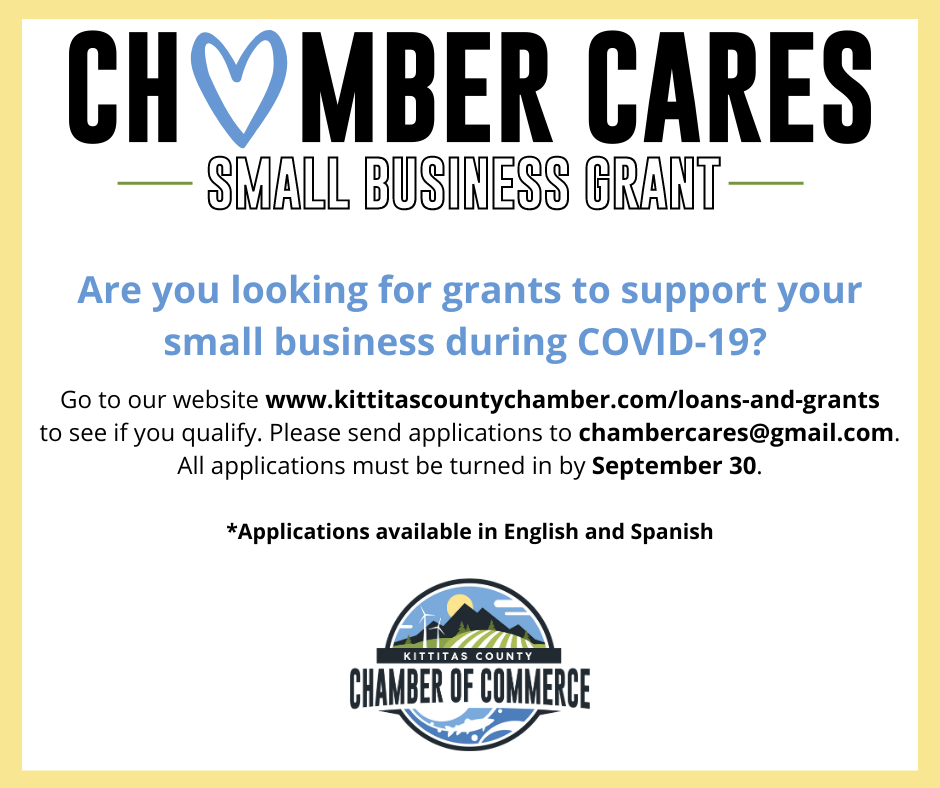 Chamber Cares Small Business Grant - Up to $10,000 Grants
The Washington State Department of Commerce has released another round of funding. Small businesses can apply if:
The business is locally owned and managed with local decision-making authority.
The business has a current Washington State Business License at the time of the grant award.
The business has been in operation for at least one year from the date of the application.
The business has 20 or less full-time employees.
The business can demonstrate the loss of income due to COVID-19.
The business was not deemed an essential business during the COVID-19 pandemic.
Applications must be submitted to chambercares@gmail.com. The application deadline is September 30, 2020. Recipients will be informed on whether they will receive funding on October 15, 2020. The Kittitas County Chamber of Commerce must receive the signed contract between your business and the Chamber of Commerce by November 15, 2020 in order for your business to be awarded its funds.
Spanish:
La Cámara De Comercio Está Aquí Para Ayudarles
Ayuda Económica Para Pequeños Negocios
De nuevo el Departamento de Comercio del Estado de Washington ha aportado fondos para pequeños negocios.  Usted califica para solicitar estos fondos si:
 Su negocio es propiedad local o es dirigido y administrado localmente.
Usted tiene vigente la Licencia de Negocios del Estado de Washington cuando reciba los fondos.
Su negocio ha estado en función por lo menos de un año desde la fecha que solicitó los fondos.
Usted tiene 20 empleados o menos a tiempo completo.
Uste puede demostrar pérdida de ingreso a causa del COVID-19.
Su negocio no fue asignado como negocio esencial durante la pandemia del COVID-19.
Las solicitudes deben ser enviadas electrónicamente a chambercares@gmail.com. La fecha límite para presentar solicitudes es el 30 de Septiembre de 2020. El 15 de Octubre de 2020, se informará a los solicitantes si recibirán o no los fondos. Para que al negocio reciba los fondos otorgados, la Cámara de Comercio de Kittitas debe recibir el contrato firmado por el negocio a mas tardar el 15 de Noviembre de 2020.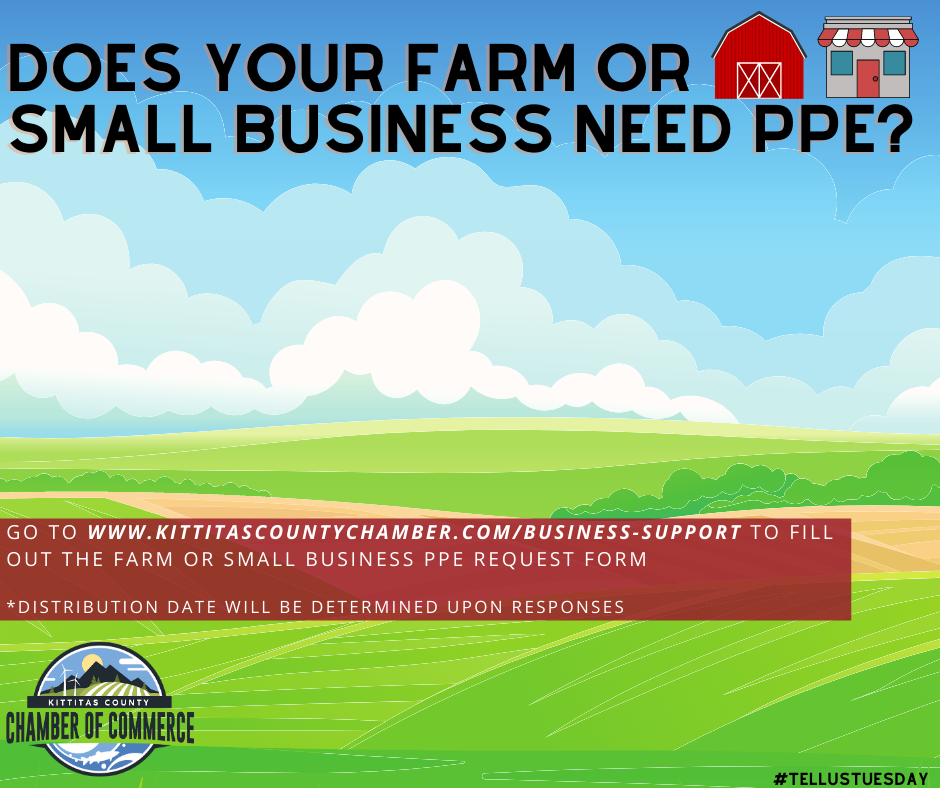 PPE for Farms
Does your farm or agricultural based business need PPE? Go to our website to fill out the PPE request form. Distribution of PPE is determined upon responses and need. If you have any questions, please email our CEO Amy McGuffin.
Kittitas County Business Feedback Survey
The Kittitas County Chamber of Commerce is looking for feedback from our members and local businesses. We want to know what resources you might need going forward and what the Chamber can do to assist and continue advocating for small businesses! Take the survey here.
Membership Drive
The 2020/2021 Kittitas County Chamber of Commerce's direction will concentrate on the exposure of our community, businesses, and people. This will be done by making Kittitas County stand out as somewhere to live, somewhere to work, somewhere to play, somewhere to eat, somewhere to volunteer, somewhere to stay, somewhere to hold your events… ultimately, somewhere to experience the beautiful County we call home.
We know that the beginning of 2020 has been super stressful, especially for our small businesses! Any new member that joins the Chamber during the month of September will be entered to win one of our grand prizes, such as a Carpet Cleaning from Clean Image Services, a 2 hour office Feng Shui Consultation withRumble Interiors, a Car Detail from Kelleher Motor Company and many more!
If you know of a business that you think would benefit from joining the Chamber, be sure to send them to our application, or have them email our Membership Director Gemma!
Introducing Small Business Development Center Advisor, Liz Jamieson
On July 29 at 9:30 a.m., we introduced our Business Development Center SBDC Advisor, Liz Jamieson live on our Facebook page. Go to our Facebook page now to learn a little bit about our teams new addition. If you as a business would like to schedule a free, confidential, one-on-one appointment with Liz for help with your business it whatever stage it may be in, go to our website now.
Kittitas County Chamber Informational Webinar Series
To help businesses stay informed during this time, the Kittitas County Chamber of Commerce has been hosting virtual meetings with various organizations such as the SBA, the SBDC, HR Specialists, Local Legislators, and Public Health Officer Dr. Larson, with more to come. To view these webinars, visit our Chamber Webinars and Q&As Page.
Do you have a topic you would like covered during our informational webinars? Submit your topic here!
Chamber on the Road
As the county continues to open up, the Kittitas County Chamber of Commerce is helping promote our member businesses. Not only do we have the #MemberMonday and #FeatureFriday social media campaign about one of our member businesses, our CEO Amy McGuffin will be hitting the road and visiting our chamber members in a new video series entitled Chamber on the Road. During these videos, Amy will be conducting interviews with our member businesses to discuss who they are, and what steps they have taken to get back up and running. This week's Chamber on the Road episode was with Cafe C5. Tune into our Facebook page or Instagram page on Friday's at 4:30 p.m. to watch the next episode. Thank you to our 2020 Chamber on the Road sponsors Kelleher Motor Company, Yakima Federal Savings and Loan Association, and Evergreen Home Loans.
Washington State Mask Directive & Gathering Restrictions
On July 2, Washington State implemented an extension on the masking requirement in response to COVID-19. Per the Governor, businesses are required to have their employees and customers wear face coverings. Under this proclamation, businesses may not serve any customer, services or goods, if they do not comply. The only exception to this rule is if you have a medical condition or disability that will not allow you to safely wear a mask.
View the entire directive here
Governor orders go into effect on July 20, to limit the spread of COVID-19 by limiting the number of people who are allowed to gather together. Kittitas County is now required to reduce gatherings from 50 people to 10 people. The requirement to limit interaction to 10 people applies to all gatherings with the exception of church gatherings at this time.
View the entire directive here
On July 23, the Governor rolled back some activities such as weddings and funerals. Receptions are prohibition and ceremonies are permitted with the occupancy of 20 percent or 30 people, whichever is less. For restaurants and bars, indoor dining is now limited to household members, alcohol sales must end at 10 p.m., table size is reduced to 5 people and a total occupancy to 50 percent. Game areas must also close and bars will close indoor service. Do you want to say something about getting your license switched over? Gyms and fitness centers will be limited to 25 percent capacity. Movie theatre's will reduce their occupancy from 50 to 25 percent. All of this will go into effect July 30 besides the wedding and funeral regulations, which go into effect August 6.
View the entire directive here
On September 22, the Governor put out a new mandate on Phase 2 and 3 Miscellaneous Venues COVID-19 Requirements. Consistent with the Governor's Safe Start-Stay Healthy Plan, receptions (other than for limited weddings and funerals), networking events, and live-entertainment are prohibited. The following activities are permitted, provided they cannot be performed virtually: Business meetings, training, and testing (or substantially similar activity). Indoor capacity in each room or separate building is limited to 30% capacity (per fire marshal code) or 200 people, whichever is less, as long as six feet of physical distance can be maintained by all attendees. This excludes venue staff.
Business Re-opening Support
Kittitas County Chamber of Commerce and additional municipalities have put together resources for potential business re-opening; including safety plan information, policy samples, re-opening safety plan templates, sample signage for display, and additional helpful links. It is required by Washington State for businesses have a protocol set in place before re-opening. Click here for more information.
Support Local - Phase 3 Business Hours Update
Has your business changed hours of operation, added take out/delivery/ dine in options, or have an online shopping tool you would like publicized? Check out our Support Local page on our website! Don't see your business listed, or have updated info? Fill out this form and we will update within 24 hours.
Support Resources for Kittitas County
Businesses and community members of Kittitas County can find the most up to date information regarding protocol for COVID-19 on our website, along with links to other resources.
Any businesses that have been affected by COVID-19 should fill out the Estimated Disaster Economic Injury Worksheet. This form is not required, but is a convenience in clarifying the supporting documentation the state is required to submit to the U.S. Small Business Administration when requesting an Economic Injury Disaster Loan Declaration.
FREE ScaleUp Kittitas County Program Sign-Up Deadline Extended to September 29
If you're a business owner who wants to REALLY grow your company, this ScaleUp training program is perfect for you! With the recent COVID-19 pandemic taking place, now is the right time to work on your business and create your plan for scaling your company.
ScaleUp has been specifically designed to help you explore and identify new and innovative opportunities for increasing additional revenues, strengthening your brand and developing a competitive advantage, increasing efficiency and managing operations, and improving cash flow and getting in financial control. Don't be complacent in your business; it's time to ScaleUp your business!
Washington Small Business Development Center Webinars 
The Washington Small Business Development Center provides small businesses guidance through their webinars. The webinars range from business growth to loan assistance to business resilience. Check out this link to find extra help during this hard time.
Washington Employment Security Department and WorkSource Resources 
During this time of uncertainty, resources such as WorkSource and the Washington Employment Security Department (ESD) have a high demand for unemployment benefits and retaining jobs. ESD is offering webinars for those needing help with unemployment. Register for the webinar here. If you need help creating a resume or finding a job contact WorkSource Kittitas County at lchouinard@pfp.org or call (509) 925-5311.