Chamber News | July 5 - July 11, 2020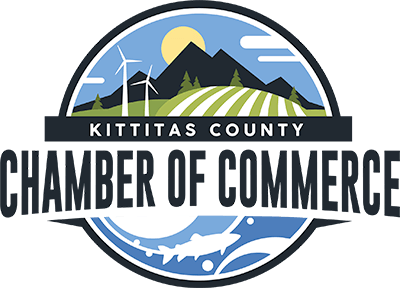 Our Visitor Centers are Open
If you are in need of a one-one-one appointment, Firewood Permits, Forest Passes, and/or information about Kittitas County; our Kittitas County Chamber of Commerce office and the Ellensburg and Cle Elum Visitor Centers are officially open as of Monday. Our Downtown Ellensburg Visitor Center will be opening this Saturday. Please be courteous to the social distancing rule as it is still being observed. For more information, please email info@kittitascountychamber.com or call (509) 925-2002.
Kittitas County Chamber of Commerce Office

609 N Main Street, Ellensburg WA 98926 | (509) 925-2002

Monday - Friday | 9 a.m. - 5 p.m.
Ellensburg Visitor Center
609 N Main Street, Ellensburg, WA 98926 | (509) 925-2002
Monday - Friday | 9 a.m. - 5 p.m.
Saturday & Sunday | 10 a.m. - 2 p.m.
Cle Elum Visitor Center

312 W 1st Street, Cle Elum, WA 98922 | (509) 674-6880

Monday - Saturday | 10 a.m. - 4 p.m.
Ellensburg Downtown Visitor Center

111 W 4th Avenue, Ellensburg, WA 98926

Saturday | 9 a.m. - 1 p.m.
Kittitas County Chamber Informational Webinar Series
To help businesses stay informed during this time, the Kittitas County Chamber of Commerce has been hosting virtual meetings with various organizations such as the SBA, the SBDC, HR Specialists, Local Legislators, and Public Health Officer Dr. Larson, with more to come. To view these webinars, visit our Chamber Webinars and Q&As Page.
Do you have a topic you would like covered during our informational webinars? Submit your topic here!
Kittitas County Chamber Business Development Center Marketing Fundamentals Program
The goal of each of these Marketing Fundamentals workshops is for small businesses in Kittitas County to learn about building and promoting your brand, gain insight into navigating post-COVID-19 messaging, implement basic marketing principles, begin the process required to create a marketing plan for your company, and establish best practices for developing a functional brand on your website and social media.
The Marketing Fundamentals workshop series is free. Please go to the Business Development Center page on our website to register for these workshops.
Kelsey Green Communications

On July 10 at 1 p.m., join the Kittitas County Chamber's Business Development Center and Kelsey Green Communications for the first of three Marketing Fundamentals series webinars "Building Your Brand". In this workshop you will learn about authentic branding, how to establish what your brand stands for, what value your business may provide to its consumers, and what makes your brand unique. Through an investigation of the concepts of authentic branding, storytelling, joint ventures and building community; you will learn how to help strengthen and diversify your foundational marketing efforts for maximum effect.
Corissa Saint Laurent at Google

On July 17 at 1 p.m., join the Kittitas County Chamber's Business Development Center and Corissa Saint Laurent at Google to learn best practices and analyze trends about how customers engage with your business online; then learn how to turn these insights into well-informed, actionable decisions.
Mary Kae with Genesis Marketing

On July 24 at 1 p.m., join the Kittitas County Chamber's Business Development Center and Genesis Marketing to learn how to utilize social media marketing to grow your business. You will master research processes and strategies to help you harness the power of social media marketing.
First (Second) Friday Coffee Club
Join the Kittitas County Chamber of Commerce for a special First (Second) Friday Coffee and soft opening of our new Business Development Center on Friday, July 10th from 9 a.m. - 10 a.m.
Enjoy coffee, treats and socially distanced networking. Hear what the Kittitas County Chamber of Commerce has been up to, what the Business Development Center is all about, and get updates from local business community members.
The Kittitas County Chamber of Commerce remains committed to the health and well-being of our members and community. We will have hand sanitizing stations in place, and in keeping with state mandates, we ask that all in attendance wear facial coverings.
2020 Kittitas County Candidate Forums
The Kittitas County Chamber of Commerce will be hosting Virtual Candidate Forums for the upcoming August 4th Primary Elections. The Forums will be held virtually through Zoom on July 15 at 6 p.m., July 22 at 6 p.m., and July 23 at 6 p.m. We have an exclusive in-person town hall for 25 Chamber members on July 8 at 6 p.m. at our Business Development Center in Cle Elum. The public will still be able to watch this forum via Facebook live. All forums will be broadcasted through Inland Network and ECTV, as well as on the Kittitas County Chamber Facebook page. We will be accepting questions for these forums from our members and our community.
Please submit your questions here
Independence Feedback Form
If you have time and would like to give us feedback on your overall 4th of July experience, please go to our Feedback Form to help us improve our part in the Independence Day festivities.
Washington State Mask Directive
On July 2, Washington State implemented an extension on the masking requirement in response to COVID-19. Per the Governor, businesses are required to have their employees and customers wear face coverings. Under this proclamation, businesses may not serve any customer, services or goods, if they do not comply. The only exception to this rule is if you have a medical condition or disability that will not allow you to safely wear a mask.
View the entire directive here
Kittitas County Community Recovery Fund
The Community Recovery Fund is established to accept monetary donations from individuals, businesses and organizations, both local and abroad, to help bridge the gap between state and federal funds to assist our Kittitas County families, friends and neighbors in recovering from the impact of COVID-19. Distribution of these funds will be based on the needs of Kittitas County residents as reviewed and recommended by the Community Recovery Fund Committee. Basic needs and unexpected expenses due to COVID-19 measures will be given priority. Click here to donate. In need of assistance? 
Click Here for The Community Recovery Fund Application
Business Re-opening Support
Kittitas County Chamber of Commerce and additional municipalities have put together resources for potential business re-opening; including safety plan information, policy samples, re-opening safety plan templates, sample signage for display, and additional helpful links. It is required by Washington State for businesses have a protocol set in place before re-opening. Click here for more information.
Support Local - Phase 3 Business Hours Update
Has your business changed hours of operation, added take out/delivery/ dine in options, or have an online shopping tool you would like publicized? Check out our Support Local page on our website! Don't see your business listed, or have updated info? Fill out this form and we will update within 24 hours.
Support Resources for Kittitas County
Businesses and community members of Kittitas County can find the most up to date information regarding protocol for COVID-19 on our website, along with links to other resources.
Any businesses that have been affected by COVID-19 should fill out the Estimated Disaster Economic Injury Worksheet. This form is not required, but is a convenience in clarifying the supporting documentation the state is required to submit to the U.S. Small Business Administration when requesting an Economic Injury Disaster Loan Declaration.
Available Loans and Grants
For information about available loans and grants go to our website. Please contact the Kittitas County Chamber of Commerce CEO Amy McGuffin or call (509) 925-2002 if you would like more information or have additional questions.
Business Economic Recovery Call | Every Tuesday | Noon 
In order to continue providing accurate, timely information for the business community impacted by COVID-19, the Kittitas County Community Resource and Economic Recovery group, comprised of representatives from business associations, business owners, community members, local government officials, and social support agencies, invites businesses to call in each Tuesday at noon to get up-to-date information about the availability of resources in support of businesses reopening, and to ask questions pursuing resources and support to meet their needs.
In order to prepare for each Tuesday, the Kittitas County Chamber will take questions from businesses and community members in Kittitas County now in order to efficiently answer as many questions as possible during the call. Input your questions here!
Every Tuesday at noon, call (408) 418-9388 with 960748174 as the access code in order to get the most up-to-date information relating to COVID-19.
Kittitas County Survey 
The Kittitas County Chamber of Commerce and partners know that you have been hit hard by the closures, restrictions, and shelter-in-place guidelines resulting in the spread of COVID-19.
We are working on a way to ensure that you get the support you need during this time. In an effort to capture this information, we ask that you please complete the included survey and offer additional comments wherever needed to help us learn how to better serve you during this time.
A response team has been created to review the results in order to implement support services. If you have questions contact the Kittitas County Chamber of Commerce CEO Amy McGuffin.
Washington Small Business Development Center Webinars 
The Washington Small Business Development Center provides small businesses guidance through their webinars. The webinars range from business growth to loan assistance to business resilience. Check out this link to find extra help during this hard time.
Washington Employment Security Department and WorkSource Resources 
During this time of uncertainty, resources such as WorkSource and the Washington Employment Security Department (ESD) have a high demand for unemployment benefits, especially with the opening of the Pandemic Unemployment Assistance (PUA) funding. ESD is offering webinars for those needing help with unemployment. Register for the webinar here.