Chamber News | April 26 - May 2, 2020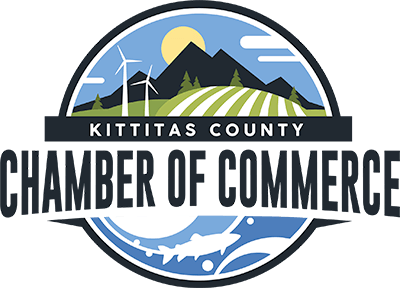 Virtual First Friday Coffee | May 1, 2020 | 9 a.m.
Join the Kittitas County Chamber of Commerce on Friday, May 1st at 9 a.m. for our Virtual First Friday Coffee Club. Grab your coffee and hop on to your computer to hear what the Chamber has been up to, what we're working on, and introduce yourself to our business community!
Tired of the same old zoom meetings? Spice it up by changing your background! We know lots of you have had to cancel your summer vacations, so now is the perfect time to pretend you are on the beach. Learn how to change your zoom background here!
Washington Department of Commerce and Thurston County Economic Development Council ScaleUp FREE Online Training Opens at 10 a.m. on April 30, 2020
With only 100 spots available, the Washington State Department of Commerce and Thurston County Economic Development Council (EDC) is offering a new version of the EDC's highly successful ScaleUp program aimed at helping small businesses move forward through the COVID-19 crisis.
ScaleUp helps business owners gain skills by strengthening strategic thinking, building systems thinking, increasing the effectiveness of marketing strategies and providing a variety of tips and tools that lead to greater profitability. ScaleUp includes a virtual classroom training, connection to a network of peers, and access to resources and mentors. Daryl Murrow teaches the course, which is based on Kauffman Family Foundation's curriculum.
Applications to the program will be accepted beginning at 10 a.m. April 30, 2020 at http://bit.ly/wa-scaleup. This special webinar series begins May 6 and runs through July 8. Virtual classroom sessions are held from 8:30 a.m. to noon each week. A special Study Hall session is held on Mondays to provide enrolled companies with individualized assistance.
There is no cost to qualifying businesses. For more information, contact James Davis, jdavis@thurstonedc.com, or (360) 464-6051. Register at http://bit.ly/wa-scaleup.
Available Loans and Grants
Go to our website to learn what grants and loans are available for small businesses.
For more information or to turn in your application, please contact the Kittitas County Chamber of Commerce CEO Amy McGuffin or call (509)925-2002.
Business Economic Recovery Call | Every Tuesday | Noon
In order to continue providing accurate, timely information for the business community impacted by COVID-19, the Kittitas County Community Resource and Economic Recovery group, comprised of representatives from business associations, business owners, community members, local government officials, and social support agencies, invites businesses to call in each Tuesday at noon to get up-to-date information about the availability of resources in support of businesses reopening, and to ask questions pursuing resources and support to meet their needs.
In order to prepare for each Tuesday, the Kittitas County Chamber will take questions from businesses and community members in Kittitas County now in order to efficiently answer as many questions as possible during the call. Input your questions here!
Stay tuned for the phone number and access code for Tuesday's call on our Facebook page.
Kittitas County Survey
The Kittitas County Chamber of Commerce and partners know that you have been hit hard by the closures, restrictions, and shelter-in-place guidelines resulting in the spread of COVID-19.
We are working on a way to ensure that you get the support you need during this time. In an effort to capture this information, we ask that you please complete the included survey and offer additional comments wherever needed to help us learn how to better serve you during this time.
A response team has been created to review the results in order to implement support services. If you have questions contact the Kittitas County Chamber of Commerce CEO Amy McGuffin.
Support Kittitas County
Businesses and community members of Kittitas County can find the most up to date information regarding protocol for COVID-19 on our website, along with links to other resources.
Any businesses that have been affected by COVID-19 should fill out the Estimated Disaster Economic Injury Worksheet. This form is not required, but is a convenience in clarifying the supporting documentation the state is required to submit to the U.S. Small Business Administration when requesting an Economic Injury Disaster Loan Declaration.
Has your business changed hours of operation, added take out/delivery options, or have an online shopping tool you would like publicized? Check out our Support Local page on our website! Don't see your business listed, or have updated info? Fill out this form and we will update within 24 hours.
For more information or additional help, please contact the Kittitas County Chamber of Commerce CEO Amy McGuffin or our Membership Director Gemma Hollingsworth.
Shirtworks is excited to tell you about Round 2 of our Here For Good T-Shirt Fundraiser Initiative to help support local businesses. Starting today, you can now purchase t-shirts designed by local businesses, and the proceeds will go directly to that business. Check it out here.
We are just getting started, and will be adding new businesses and new designs every day. All shirts can be picked up at Shirtworks, or shipped to your home.
Please share this information! And if you are a business that would like to participate, please contact Dan at dan@eshirtworks.com. #HereForGood
Washington Small Business Development Center Webinars
The Washington Small Business Development Center provides small businesses guidance through their webinars. The webinars range from business growth to loan assistance to business resilience. Check out this link to find extra help during this hard time.
Washington Employment Security Department Webinars
During this time of uncertainty, resources such as WorkSource have a high demand for unemployment benefits, especially with the opening of the Pandemic Unemployment Assistance (PUA) funding. WorkSource is offering a webinar for those needing help with unemployment. Register for the webinar here. 
Gift Card Giveaways on Social Media
The Kittitas County Chamber of Commerce is continuing our support for the businesses in Kittitas County, especially during this tough time. We bought $1,000 worth of gift cards from businesses in the county and will be giving them away periodically on social media. The next giveaway will be on April 30, 2020. Tune into our Facebook page to get more information about each giveaway.