Chamber News | February 2 - 8, 2020
Take a look at what the Kittitas County Chamber of Commerce is up to this week. Tune in next Monday, February 10, to see what else the Chamber has planned.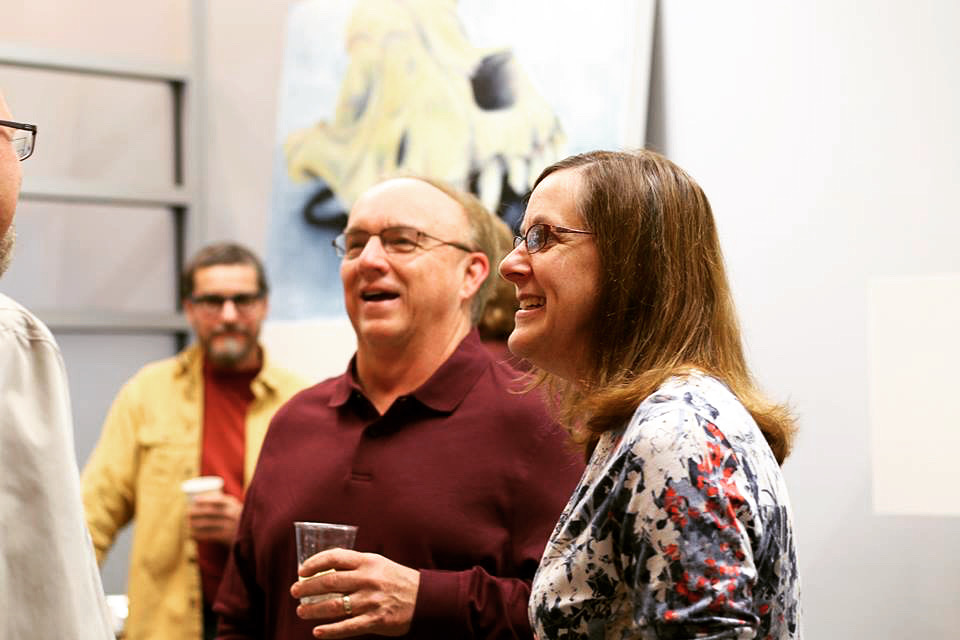 First Friday Coffee - February 7, 2020 | 9 a.m. - 10 a.m. | Western Culture and Arts Center
Every first Friday of the month, the Kittitas County Chamber and a business in Kittitas County hosts a networking event, First Friday Coffee. These events are great for networking and learning about other businesses in our county.
This month's First Friday Coffee host is The Western Culture & Art Center. The Western Culture & Art Center is the home of three Ellensburg Non-Profit groups: Western Art Association, Ellensburg Rodeo Hall of Fame, and Clymer Museum & Gallery. All three organizations are located at the Clymer Museum at 416 North Pearl Street in Ellensburg.
Come over to The Western Culture & Art Center at 9 a.m. on February 7 for some coffee, treats, conversation and prizes. This event is open to everyone, not just Chamber members.
For more information, please email our Membership Director Gemma. We hope to see you there!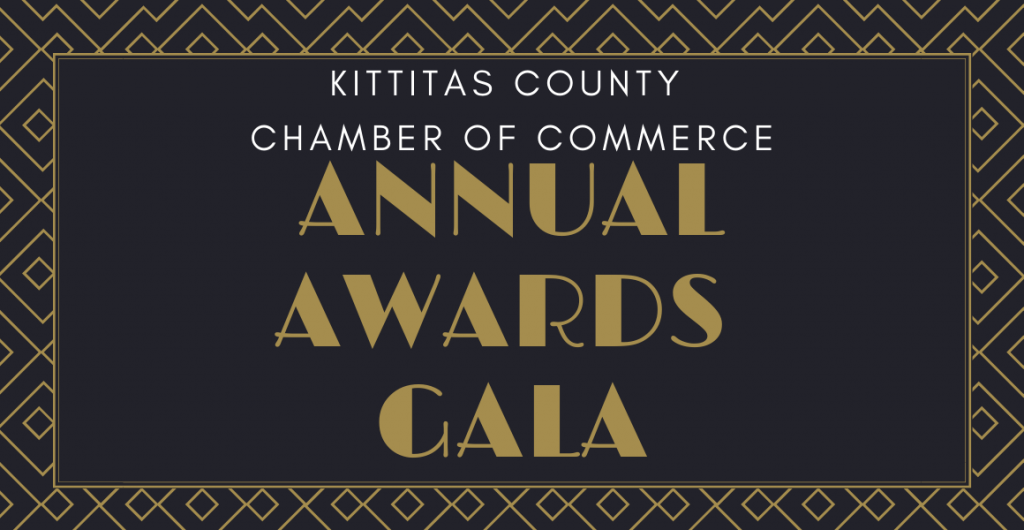 Annual Awards Night - March 12, 2020 | 5 p.m. - 9 p.m. | Hotel Windrow Ballroom
Voting is now over for the Kittitas County Chamber Annual Business Awards! If you want to get dressed up and watch the winners announced live, tickets are available for this year's Annual Awards Gala.
The Gala is on March 12 from 5 p.m. to 9 p.m. in one of the newest additions to Ellensburg's Main Street, Hotel Windrow. Get your tickets today! Be sure to check out the new hotel or grab a bite at their restaurant, Basalt. 
During the Gala, there will be an auction featuring a variety of items from the community and a few from other parts of the state. All proceeds from this event are going to the Valley Musical Theatre to help them continue making their productions a success. The Valley Musical Theatre offers many productions for the whole family to enjoy. Make sure you look at their website for any upcoming events.
Sponsorship spots are available for this event, including table sponsors. Space is limited so contact our Membership Director Gemma, today!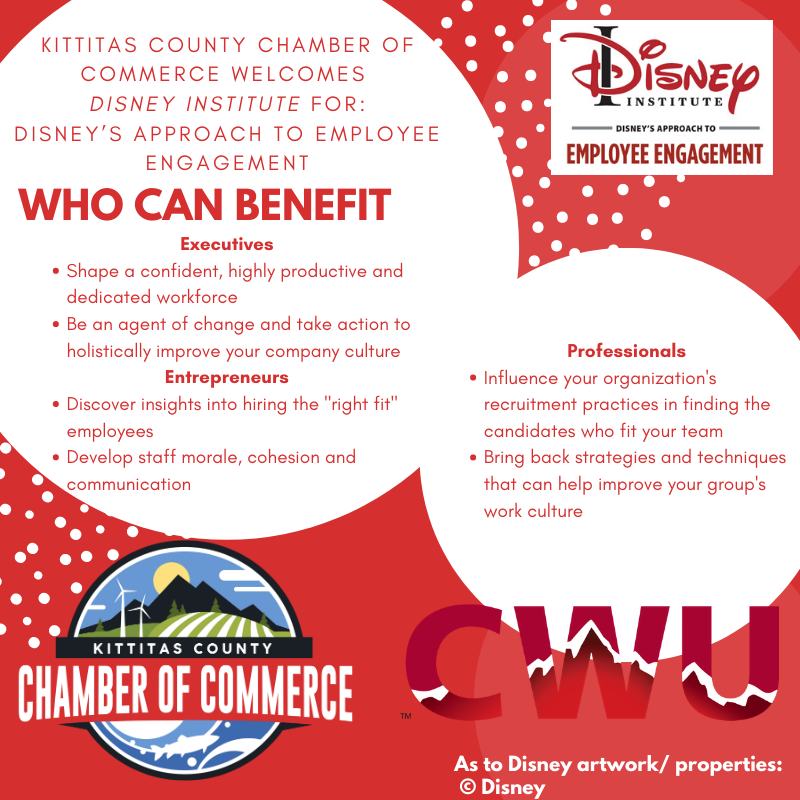 Disney Institute - April 14, 2020 | 8 a.m. - 5 p.m. | Central Washington University Ballroom
Disney Institute is bringing its renowned professional development course, Disney's Approach to Employee Engagement, to Ellensburg on April 14th, 2020 at Central Washington University. Members get a discount of only $300!
The one-day event will allow area professionals to explore ways in which they can shape their organization's culture based on desired employee behaviors, and select people who are a right-fit for the organization's culture. This day of Disney Institute training uses business insights and time-tested examples from Disney parks and resorts worldwide to inspire individuals and organizations to enhance their own customer experience using Disney principles as their guide.
The course is beneficial to professionals, and specifically those with direct reports, looking to improve how they select, train, and engage employees. Individuals interested in shaping a confident, highly productive, and dedicated workforce will find this course valuable.
Sponsorship spots are available for this event. Contact our Membership Director Gemma today to find out the opportunities and benefits for becoming a Chamber sponsor.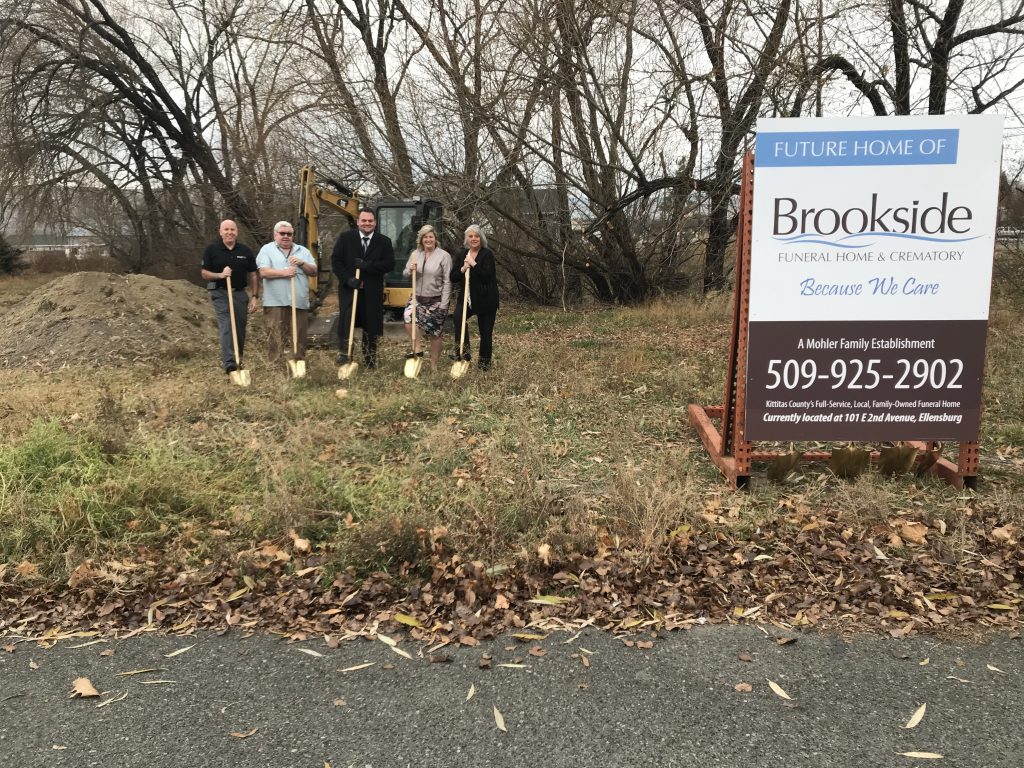 Become a Member - Kittitas County Chamber of Commerce
The Kittitas County Chamber of Commerce is the largest business support and development organization in Kittitas County, and one of the largest in Central Washington. With just over 500 members representing every business sector, the Chamber and its committees oversee county-wide tourism promotion and economic development initiatives and a range of business support tools including publications, web services, seminars and even leadership development for a new generation.
As a membership based organization, the Chamber is dedicated to providing the best possible resources to the entire county. Some of the benefits to becoming a Chamber member include: network event hosting, directory listing in the Business Directory publication and Chamber website, visitor center referrals, event promotion, business plan guidance, professional grant writing assistance, access to professional development opportunities, access to member mailing lists, health plans and more.
If you would like to sign up to become a member or have any additional questions, please contact our Membership Director Gemma.